Full Auto Strapping Machine
Mesin Strapping  adalah salah satu jenis mesin kemasan yang membuat packing kardus jadi lebih mudah dibawa dan kuat digenggam. Mesin ini mempunyai pola kerja packing dengan metode strapp/tali yang nantinya bisa mengikat keseluruhan bagian pada kardus. Tali yang mengikat kardus atau carton ini memiliki sifat yang kuat, sehingga dapat dipastikan andal saat proses pengangkatan.
| | |
| --- | --- |
| Model | TP-101 |
| Power | 1000 watt |
| Max.Strapping Size(L×H) (mm) | 800×600 |
| Height of Table (mm) | 750 |
| External Dimensions (L×W×H) (mm) | 1400×620×1470 |
| Net Weight (kg) | 240 |
Mesin ini memang digunakan untuk melapisi kemasan karton. Pelapisan tersebut bertujuan agar kemasan karton tidak mudah terbuka apabila akan diangkat oleh benda berat atau ditarik oleh katrol sekali pun. Penggunaan mesin ini juga bertujuan untuk menjaga keamanan produk saat proses pengiriman ke berbagai distributor.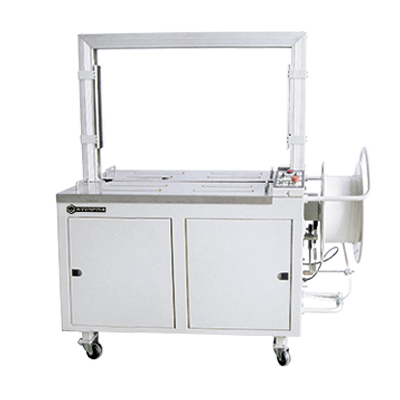 Full Auto Strapping Machine bergaransi resmi dengan harga termurah dan sparepart terlengkap. Full Auto Strapping Machine ini bertenaga daya listrik 1000 Watt. Serta strapping speed 2.5 sec/cycle dan max.strapping size(L×H) 800×600 mm, Height of Table 750 mm. Juga memiliki bobot mesin 240 kg. Segera hubungi kami untuk jenis & tipe mesin yang anda cari.