Auto Cup Filling Sealing 8 Line
Auto Cup Filling Wirapax bergaransi resmi dengan harga termurah dan sparepart terlengkap. Auto Cup Filling Sealing 8 Line ini memiliki Power: 380V / 50Hz, 8KW Capacity: 9600 cup/hour. Serta Machine Weight: 1500 kg. Segera hubungi kami untuk jenis & tipe mesin yang anda cari.
Cup Filling adalah alat yang digunakan untuk mengisi cairan ke dalam gelas sekaligus melakukan sealing secara otomatis. Mesin ini juga memiliki kemampuan untuk mengisi volume air dalam gelas (cup) secara otomatis kemudian mengemasnya menggunakan metode sealing pemanas. Mesin ini masih termasuk ke dalam kategori Mesin Filling karena fitur pengisian cairannya yang termasuk paling mutakhir dan canggih.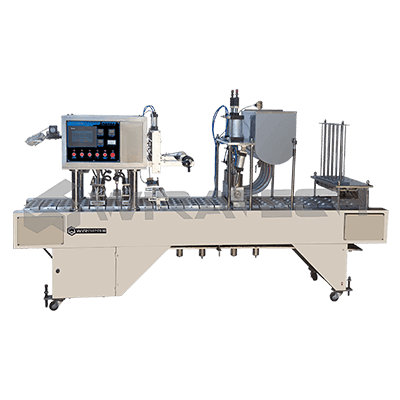 Jika Anda memiliki bisnis seperti Usaha Kecil dan Menengah (UKM) air minum kemasan dan memproduksinya sendiri, alat ini wajib untuk Anda miliki. WIRATECH menawarkan Mesin Cup dengan berbagai macam jenis dan tipe yang bisa disesuaikan dengan kebutuhan. Mesin yang kami tawarkan terdiri atas 3 varian, yakni Auto Cup Filling dengan kapasitas 8 Line, 4 Line, dan yang paling kecil 2 Line.
This series Auto Cup Filling Sealing 8 Line is widely used in various kinds of plastic cup for liquid filling and sealing.It can automatically finish the process of filling,sealing,cutting,printing the code, sterilizing in ultraviolet radiation and falling cup etc.IN addition,it can be customized that according to your special requirements.