Paket Mesin Usaha Roti dan Kue
Roti atau kue merupakan makanan yang sering dijadikan alternatif pengganti nasi. Roti dan kue sendiri memiliki ragam jenis. Roti lebih umum digunakan sebagai pengganti nasi. Sedangkan kue memiliki jenis yang lebih luas. Kue dapat dibedakan menjadi dua tipe, yaitu kue kering dan kue basah.
Kue kering diolah menggunakan oven untuk menghilangkan kandungan airnya. Kue kering biasanya juga lebih awet untuk disimpan. Sedangkan kue basah dimasak dengan cara dikukus. Hasilnya masih mengandung air dan lebih padat. Kue basah biasanya lebih mengenyangkan. Kedua jenis kue ini biasa disajikan sebagai kudapan.
Masih banyak jenis roti dan kue lainnya. Namun, untuk mengolah roti dan kue sendiri harus memiliki ketelitian khusus lho. Misalnya penggunaan terigu yang harus sesuai dengan takaran. Atau penggunaan ragi pada pembuatan roti harus seimbang. Jika salah takaran akan memengaruhi rasa roti. Pasti Anda tidak mau kan menjajakan hasil jualan dengan kualitas rasa yang buruk?
Paket Usaha Mesin Roti dan Kue
Meskipun menggunakan bahan-bahan yang hampir sama. Roti dan kue memiliki cara pembuatan yang berbeda. Misalnya yang utama seperti penggunaan ragi pada roti sedangkan kue tidak. Proses awalnya sama, yaitu melakukan pengadukan adonan hingga tercampur rata. Pengadukan tersebut menggunakan mixer.
Proofer roti adalah mesin yang berfungsi untuk mengembangkan adonan roti. Sebelumnya dalam mengembangkan adonan roti dapat dilakukan dengan cara manual, yaitu menggunakan ragi yang diaduk rata pada adonan. Setelah itu, adonan yang sudah tercampur ragi dalam wadah ditutup dengan kain dan disimpan di ruangan dengan suhu tertentu.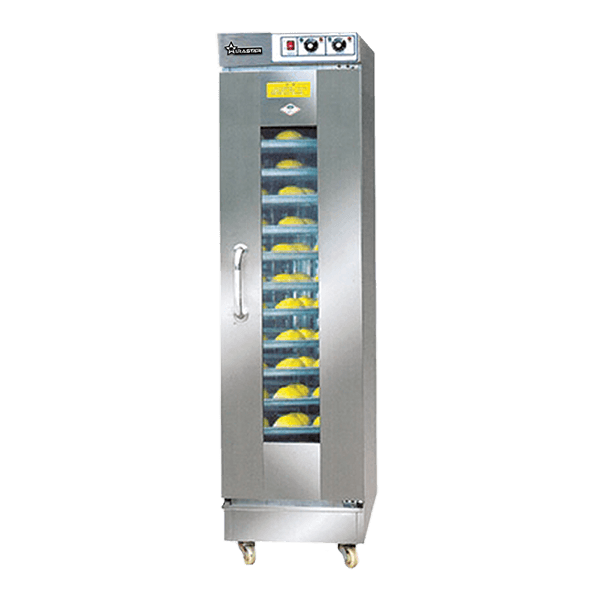 Namun sayangnya, cara manual ini tidak memberikan hasil adonan yang mengembang merata. Masing-masing ukuran roti tidak seragam. Hal itu juga dapat disebabkan oleh suhu ruang yang tidak stabil. Untuk menangani hal tersebut, Anda bisa menggunakan proofer roti. Dengan suhu stabil, di dalam mesin masing-masing adonan yang sudah dicampur ragi dan dibentuk akan mengembang sempurna. Ukurannya pun presisis, sehingga lebih memiliki tampilan yang menarik dan meningkatkan nilai jual.
Oven Roti
Setelah roti mengembang sempurna, berikutnya masuk pada tahapan pemanggangan dengan oven. Tahapan ini menjadi proses yang paling penting dalam pembuatan roti atau kue. Tanpa oven tentu saja roti atau kue tidak bisa menjadi matang. Bagi Anda yang baru merintis bisa menggunakan oven roti dengan kapasitas kecil terlebih dahulu.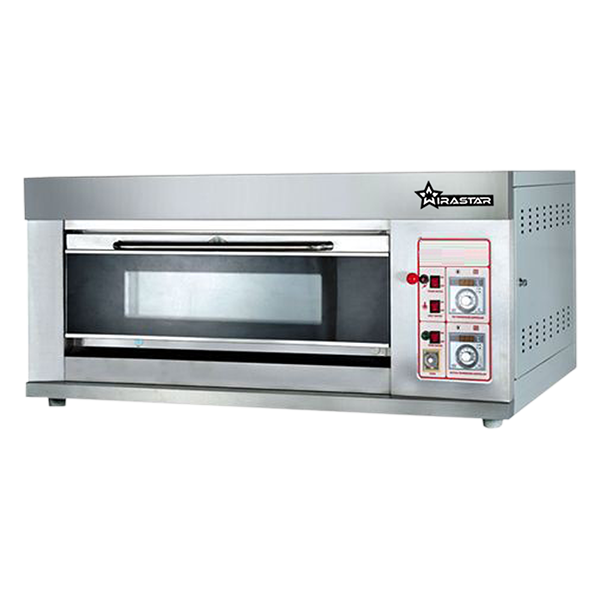 Saat ini sudah tersedia oven rumahan di pasaran. Namun, bagi Anda yang memiliki keperluan dalam berbisnis roti atau kue ada baiknya menggunakan oven roti khusus. Kami menyediakan oven roti khusus memenuhi kebutuhan bisnis bakery Anda.
Bread Slicer
Bread slicer adalah mesin pemotong roti. Mesin ini direkomendasikan untuk Anda yang memiliki usaha besar roti tawar. Namun, tidak menutup kemungkinan bagi Anda yang baru merintis usaha. Saat ini, banyak pebisnis Usaha Kecil dan Menengah (UKM) yang tertarik menggunakan mesin-mesin besar dan profesional dalam pengoperasiannya.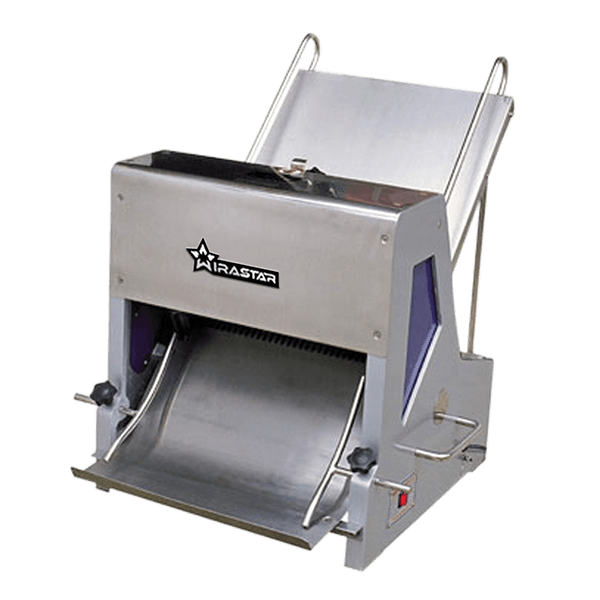 Memotong roti tawar sendiri memang membutuhkan ketepatan untuk menghasilkan ukuran yang sama. Awalnya memang Anda bisa menggunaka cara manual, yaitu memotong dengan pisau dapur. Namun, cara itu akan sangat melelahkan bukan? Tidak efisen tenaga dan waktu. Untuk itu, Anda bisa menggunakan bread slicer.
Display Cooler
Lho apa hubungannya dengan display cooler ya? Display cooler merupakan mesin pendingin, namun tidak untuk membekukan. Display cooler difungsikan untuk menyimpan kue. Biasanya kue-kue yang disimpan seperti kue tart. Dengan menggunakan mesin pendingin ini dapat mempertahankan kue agar tetap tahan lama dan tidak meleleh.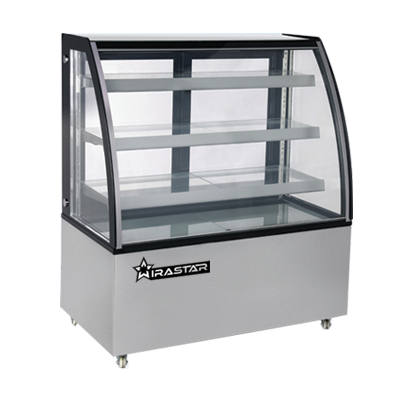 Selain itu, display cooler juga bertujuan untuk memberikan sisi elegan dalam menampilkan kue dari balik kaca. Dengan dilengkapi lampu di dalamnya, tampilan kue akan semakin menarik dipandang. Hal tersebut juga dapat lebih memudahkan pelanggan untuk memilih kue.
Continuous Sealer with Gas Blower
Sekilas memang tidak ada hubungannya continuous sealer dalam proses pembuatan kue atau roti. Namun, mesin yang satu ini sangat berpengaruh penting untuk penyimpanan roti. Continuous sealer with gas blower dapat memberikan efek gembung di dalam kemasan. Efek gembung sendiri berfungsu untuk memberik napas dan ruang pada roti yang dikemas Roti dengan kemasan ini juga lebih aman saat proses pendistribusian. Dengan kemasan, roti yang akan dikirim dan dijual tentu lebih aman, terhindar dari kontaminasi dan kerusakan lainnya.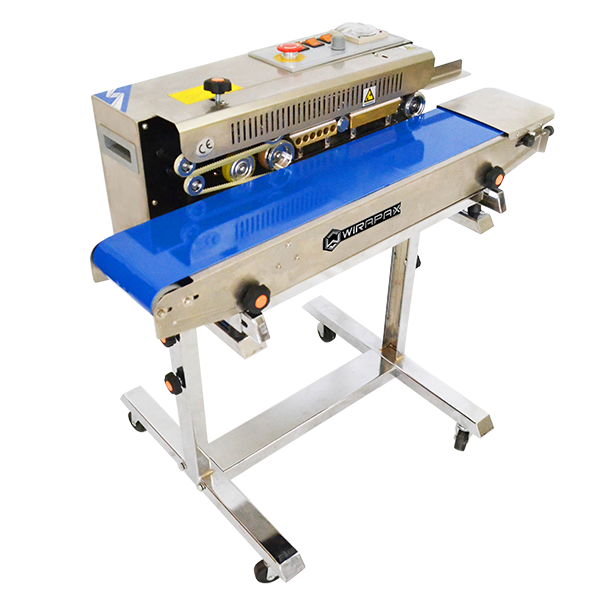 Nah, dengan adanya paket mesin usaha roti ini dapat lebih lengkap bukan? Paket mesin usaha roti ini membentuk kesatuan fungsional yang saling berhubungan, sehingga Anda tidak akan repot untuk mengolah roti atau kue secara teratur.
Keunggulan Menggunakan Paket Mesin Roti dan Kue
Roti dan kue merupakan kedua jenis makanan yang tidak memiliki waktu panjang untuk pengonsumsian. Berbagai produsen roti tentu menyiasati cara agar produknya bertahan lebih lama. Namun sayangnya banyak produsen roti tidak bertanggung jawab dalam menjajakan produknya. Mereka menggunakan pengawet makanan yang tidak aman untuk kesehatan.
Lalu bagaimana cara mengatasinya? Sebenarnya dalam mengolah roti atau kue tidak perlu menggunakan pengawet makanan yang keras untuk memperpanjang masa makanan. Roti dan kue yang enak dan lezat menggunakan berbagai bahan makanan alami atau apa adanya. Sesekali penambah pengawet makanan pun memang tidak menjadi masalah. Namun, gunakanlah pengawet makanan yang aman untuk tubuh.
Senada dengan itu, roti atau kue yang memiliki jangka waktu pendek pun ternyata lebih banyak dipilih konsumen. Alasannya roti atau kue memang tidak ditujukan untuk disimpan dalam waktu lama. Pembeliannya sendiri ditujukan untuk langsung dikonsumsi. Meskipun demikian, Anda tetap harus mempertahankan kualitas.
Salah satunya dengan penggunaan mesin. Penggunaan mesin juga akan mendukung hasil dari adonan. Jangan asal pilih mesin sebelum Anda mengetahui fungsinya. Pemilihan bahan-bahan yang berkulitas akan semakin memberikan hasil terbaik jika didukung dengan tenaga mesin profesional.
Dengan mengandalkan keduanya, yaitu bahan dan mesin roti yang berkualitas hasil roti atau kue akan jauh lebih baik daripada menggunakan cara ecek-ecek. Meskipun masa pengonsumsian lebih pendek, roti atau kue yang Anda buat memiliki tekstur lebih lembut dan nikmat disantap. Konsumen pun akan merasa puas dan ikut merekomendasikan produk Anda ke kerabat lainnya.
Masih belum paham dengan fungsional mesin? Anda bisa menghubungi tim marketing kami sekarang juga. Cek nomor yang bisa dihubungi di website kami. Anda juga bisa bertanya lebih lanjut ke berbagai sosial media kami. Wirausaha Sukses, Pilih Wiratech!