Automatic Side Seal and Cut Machine BSF-5545LE
BSF-5545LE side sealing and sealing machine is suitable for automatic online shrink packaging of products. The horizontal part of the sealing part is driven by vertical type. The vertical side knife is made of constant temperature side sealing knife. It can be used in two modes: automatic feeding or manual feeding. The film can be sealed on three sides.
| | |
| --- | --- |
| Model | BSF-5545LE |
| Power supply voltage (V/Hz) | 380/50 (three phase) or 220/60 (three phase) |
| Use air source (kg/cm3) | 8-Jun |
| Power (KW) | 1.8 |
| Packing speed (PCS/H) | 0-25 |
| Maximum package size (L × W × H) (mm) | W+H≤450, W<350, no length |
| Maximum package height (mm) | 150 |
| Sealing knife length (mm) | 450 |
| Dimensions (L × W × H) (mm) | 1680×975×1500 |
| Net weight (kg) | 290 |
Mesin shrink ialah salah satu mesin kemasan yang banyak digunakan dalam proses pengemasan. Mesin ini memiliki cara kerja dengan memberikan efek menyusut pada plastik, sehingga bisa dibentuk sedemikian rupa mengikuti pola dan bentuk yang diinginkan.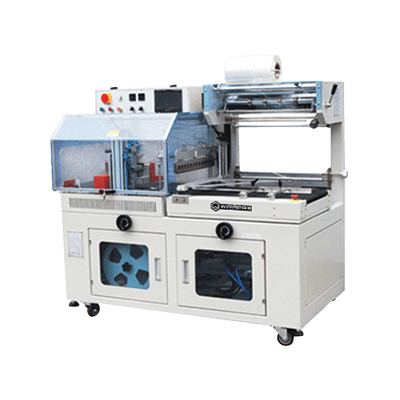 Longitudinal sealing of sustainable sealing, the length of packaging products is not limited.
Packing speed can reach 20-40 pieces / minute.
Sealing and cutting is controlled by servo motor to ensure accurate sealing and cutting positioning and excellent sealing and cutting lines.
The sealing knife has automatic protection function to prevent miscutting of the package.
The electronic governor can adjust the speed of the conveyor belt arbitrarily.
Double-layer insulation is used, and the appearance of the machine is not too hot.
High temperature resistant insulation curtains, greatly reducing heat loss.
conveyor roller of solid, high temperature silicone outer cladding tube can withstand heavy objects and rollers will not be deformed.
Biscuit, books, CD, glass products, paper towels, cards, photo frames, aluminum profiles, wood products and other products are packaged individually or in combination, suitable for mass production.
BSF-5545LE side sealing and sealing machine is suitable for automatic online shrink packaging of products. The horizontal part of the sealing part is driven by vertical type