Pika-churros, cemilan bentuk pokemon yang unik
Jika sebelumnya kita sudah membahas mengenai PokeBurgs atau burger bentuk pokemon yang unik dan  begitu lucu dan menggemaskan, kali ini Wiratech akan membahas mengenai penganan yang disebut pika-churros yang merupakan cemilan bentuk pokemon yakni pikachu yang unik dan tidak kalah menggemaskan. Mungkin tidak salah jika anda menginginkan Pika-Churros ini mengingat di Indonesia memang masih belum ada yang mencoba membuat inovasi makanan yang satu ini.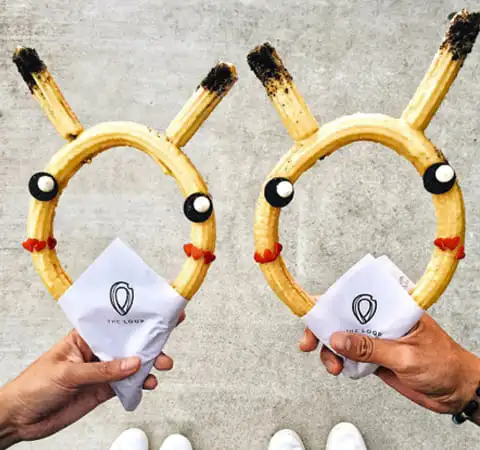 Adalah The Loop, restoran churros yang membentuk churoosnya secara melingkar ini menciptakan varian baru dalam menunya mengingat masih banyak orang yang begitu terobsesi dengan pokemon. Selain itu restoran ini juga merupakan Poke-Stop atau tempat berhentinya para pokemon. Sehingga anda yang suka sekali bermain game pokemon bisa duduk menikmati menu yang disajikan The Loop sambil menangkap pokemon yang kebetulan lewat ataupun muncul.
Pika-Churros sendiri adalah churros yang dibentuk melingkar lalu disiram dengan lapisan coklat kuning yang membuatnya memiliki warna mirip Pikachu, salah satu tokoh pokemon yang paling terkenal. Setelah itu Pikachu diberikan tambahan topings seperti oreo dan sereal bentuk bintang untuk membuatnya semakin mirip dengan Pikachu. Rasanya? Mungkin anda bisa langsung mengunjungi The Loop yang berlokasi di California ini untuk bisa mencobanya.
Sayangnya menu ini tidak masuk ke dalam menu churros yang dijual the loop. Menu tersebut dibuat hanya berdasarkan permintaan dan masih terbatas. Namun pihak The Loop juga mengatakan bahwa mereka akan menjadikannya sebagai menu yang permanen jika permintaan masyarakat semakin banyak. Jika tidak maka The Loop akan tetap menjadikannya sebagai menu sampingan atau menu musiman saja. Mungkin ini saatnya anda untuk mencoba mengikuti jejak The Loop yang membuat menu yang unik dari pokemon mengingat obsesi orang terhadap pokemon memang masih tinggi. Atau anda bisa membuat varian menu pokemon ini pada menua anda agar semakin menarik. Usahakn untuk membuat ide yang kreatif dan benar – benar beda agar tidak ditiru atau di anggap sebagai plagiat oleh orang – orang.
–Rat–