Pallet Wrapper 4505-3
Stretch Wrapper merupakan mesin yang biasanya digunakan untuk pengemasan/packaging barang produksi yang telah dikemas langsung (karton/peti). Menggunakan media plastik shrink sebagai alat utama pengemasan, Mesin Stretch Wrapper sangat cocok digunakan bagi mereka yang mempunyai basis produksi skala besar. Mesin ini juga dapat menjamin keutuhan barang yang melalui proses distribusi.
Specifications
Control System:PLC+ Screen control
Diameter of turntable:1500mm
Max pallet height:2100mm
Max pallet weight:1500kg
Film reel inside diameter:75mm
Film reel outside diameter:250mm
Turntable speed:1-10 cycles/Minute
Turntable height:80mm
Turntable motor:0.75kw
Film-rack lift motor:0.18kw
Power supply:220V 50HZ 1Phase
Mesin stretch wrapper sering digunakan oleh pabrik dan industri skala besar guna memastikan keamanan barang produksi sebelum sampai ke tangan konsumen. Mengemas menggunakan mesin ini dapat menghindari berbagai risiko yang dapat menyebabkan kerusakan produk baik terkena air, debu, hingga benturan pada saat proses pendistribusian maupun pengiriman barang produksi oleh kurir. Dalam pengoperasiannya, alat ini membutuhkan media lai, yaitu plastik wrap.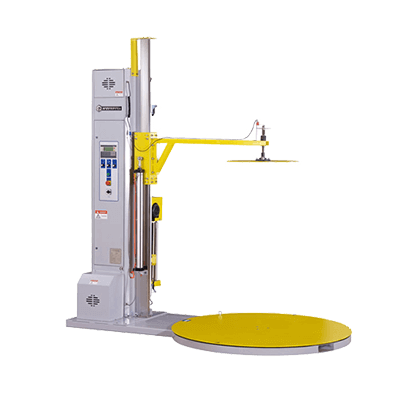 Pallet Wrapper 4505-3 bergaransi resmi dengan harga termurah dan sparepart terlengkap. Pallet Wrapper 4505-3 ini memiliki Turntable motor 0.75 kw, Film-rack lift motor 0.18 kw. Serta Diameter of turntable:1500mm, Turntable speed:1-10 cycles/Minute. Juga memiliki Max pallet weight 1500 kg. Segera hubungi kami untuk jenis & tipe mesin yang anda cari.